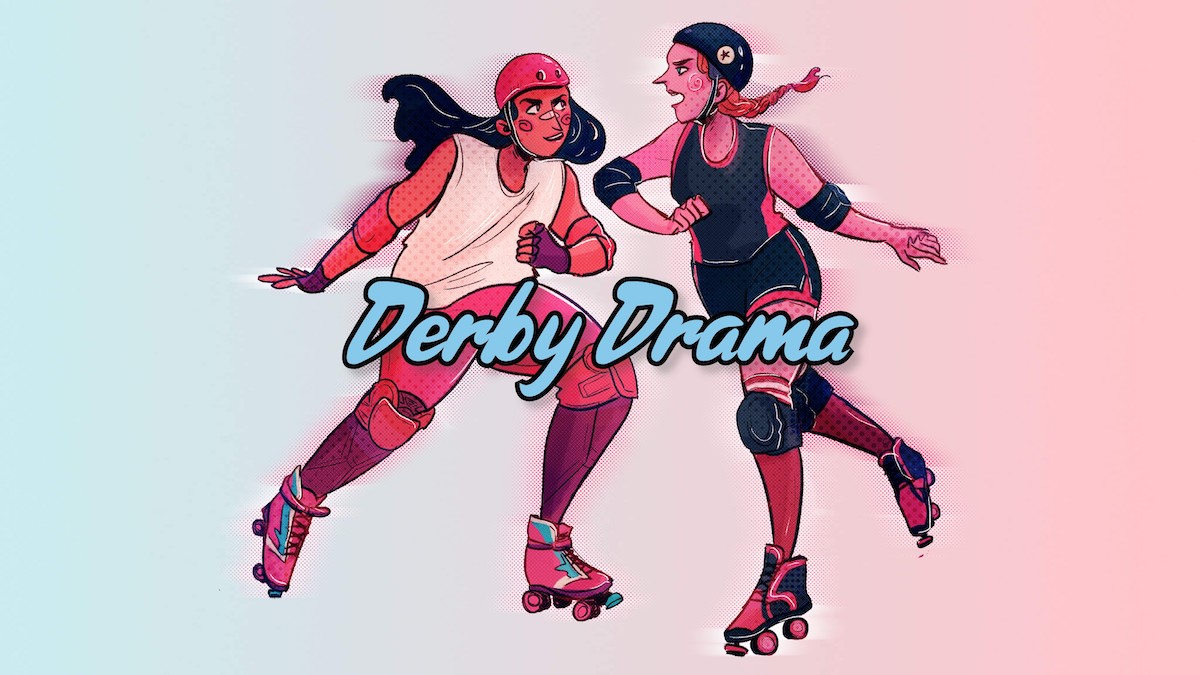 Derby Drama
Derby Drama is a tabletop role-playing game about skating in a roller derby bout! In each one-shot game, players split up into two teams of competing skaters. Explore relationships with teammates and rivals, choose smart strategies, and play your most skillful moves to help your team win.

The game is low-prep and requires a facilitator but no traditional "game master". You can make up your own setting with your friends, setting your game in an alternate-reality Victorian England, a satellite colony in a cyberpunk future, or anything your imagination an come up with. Or use a pre-made setting: Derby Drama comes with two!
With Holler Derby, compete in an Appalachian flat-track league's annual home team championships.
With World-Wide Roller League, skate in a 1970s banked-track sports entertainment production.
Derby Drama's game mechanics are a unique combination of elements from several other games, including Grant Howitt's Crash Pandas and John Harper's Blades in the Dark. The goal of the system is to give the feel of roller derby with fun moves and challenging strategy while still remaining accessible to folks who are new to derby or to role-playing games.
Derby Drama was created as a part of Kickstarter's ZineQuest2 and is distributed as three zines: the 40-page rules zine and two 16-page setting zines. Plus there are eight standard playbooks, four for jammers and four for blockers, and eight additional playbooks for the World-Wide Roller League setting.
Play online with your friends using a Google Sheet.

Written by Libby Horacek, featuring photographs by Shon Higgs and art by Libby Horacek, Alex Wright, Nova Bundy, and Liz Pavlovic. Printable character sheets and cheat sheet by Noel Smith. Edited by Noella Handley.

Purchase
In order to download this game you must purchase it at or above the minimum price of $15 USD. You will get access to the following files:
derbydrama-digital.pdf
6 MB
hollerderby-digital.pdf
2 MB
player_cheat_sheet.pdf
969 kB
Community copies
Support this game at or above a special price point to receive something exclusive.
ZineQuest-funded copies
ZineQuest backers have funded a limited number of free community copies to people from communities and backgrounds that are marginalized in gaming and/or roller derby. Help yourself to a copy if that description could apply to you!